George I Walnut Kettle Stand with Brass Top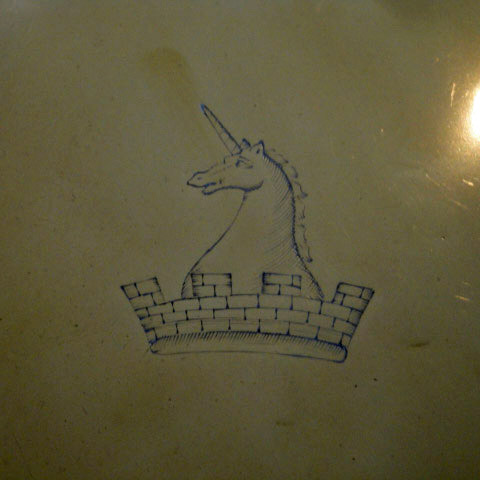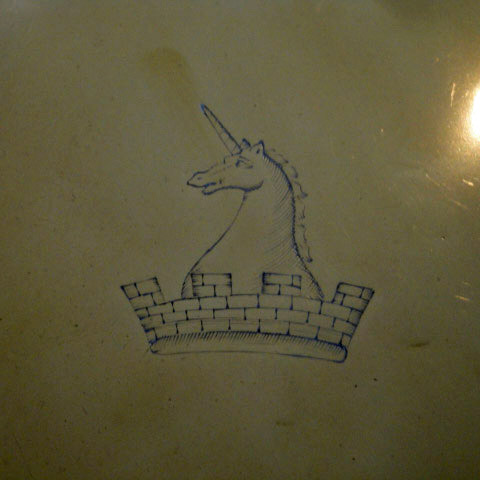 George I Walnut Kettle Stand with Brass Top
A George I Walnut Kettle-stand: the triangular-shaped brass top with flared edges and supported on a baluster turned pillar with turned rings and a circular base and pendant finial, supported by three out-splayed slightly cabriole legs ending in pad feet.
Circa 1720
Height – 20 ½ inches Top is 17 inches across
The Crest of the Family of Sparrow
The crest, as engraved upon the Triangular Brass Tray of this George I English Walnut Tripod Kettle Stand dating from circa 1720, is that of the family of Sparrow.
It may be blazoned as follows:
Crest: Out of a mural crown or a unicorn's head argent armed and crined gold
Given its presumed date of manufacture this kettle stand and its accompanying tray was at one time in possession of a member of a branch of the Sparrow family who were at one time either resident in the County of Suffolk or the neighboring County of Essex. Although it is not proven genealogically there is more than a likelihood that the Suffolk and the Essex Sparrows had a cousinship of some kind. There is also a slight variance in their arms both in design and tincturing. All bore the same crest as blazoned above, although the Sparrows, of Somersham and Ipswich in the County of Suffolk it is stated by some authorities had their unicorn's head crined (maned) purpure (purple) rather than or (gold). Reflecting upon the connection to the Counties of Suffolk and Essex there is a likelihood that it may have been in the ownership of the Sparrows, of Worlingham Hall, Worlingham in the County of Suffolk who were descended from the Sparrows, of Somersham as mentioned above. That being said, there also a number of other armigerious Sparrow families who were resident in East Anglia (historically the Counties of Norfolk and Suffolk of eastern England) and the County of Essex who may have had possession of this kettle stand and tray.
The stand and its tray are contemporaneous. Given the rather naïve engraving of the crest upon the tray, I would guess that both the stand and tray were made by a provincial maker in East Anglia or Essex rather than a London maker. This may also give rise to think that they may have been made a little later than thought as provincial craftsmen as well as their clients were often a little behind the times with the current trends and fashions prevailing in London at the time.